SkyShowtime va fi lansat și în România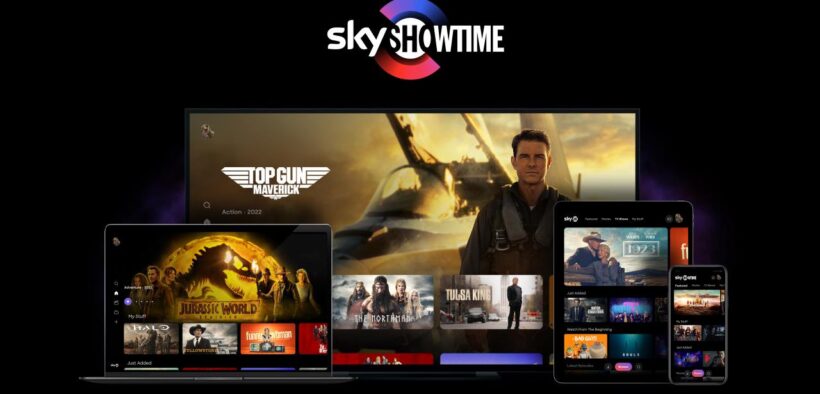 SkyShowtime, serviciu european de streaming, va fi disponibil din 14 februarie în România, plus în Albania, Cehia, Ungaria, Kosovo, Macedonia de Nord, Polonia și Slovacia.
SkyShowtime oferă inclusiv filme de la Hollywood difuzate în premieră și seriale noi, în exclusivitate, de la cele mai mari studiouri din lume.
rin această lansare multi-teritorală, numărul de piețe în care serviciul de streaming va fi disponibil ajunge la 20.
Clienții din piețele în care serviciul va fi lansat vor avea acces în exclusivitate la premiere TV ale unor filme semnate de Universal Pictures și Paramount Pictures, la seriale cu scenarii originale și exclusive, la conținut pentru copii și familie și la o selecție de titluri legendare de la Nickelodeon, DreamWorks Animation, Paramount+, SHOWTIME®, Sky Studios și Peacock – toate disponibile într-un singur loc. SkyShowtime va prezenta, de asemenea, producții originale locale, documentare și programe speciale de pe piețele sale. Compania a anunțat recent un acord pentru achiziționarea a 21 de seriale originale de la HBO Max în Europa, inclusiv seriale noi care vor avea premiera în 2023 sub numele de SkyShowtime Originals.
Cu mii de ore de divertisment de calitate pentru întreaga familie, SkyShowtime este casa noilor blockbustere care vor fi disponibile pe platformă, după lansarea lor în cinematografe și pe micile ecrane. Odată cu lansarea, publicul local va avea acces la: Ambulance, Downton Abbey: A New Era, Jerry and Marge Go Large, Jurassic World Dominion, Ray Donovan: The Movie, Redeeming Love, The Bad Guys, The Hanging Sun, The Northman și Top Gun: Maverick.
În plus, abonații vor avea acces la o selecție diversificată de seriale: inclusiv: 1883, 1923, A Friend Of the Family, All The Sins, American Gigolo, Funny Woman, Halo, Law & Order Season 21, Let The Right One In, Mayor of Kingstown Season 1 and 2, Pitch Perfect: Bumper In Berlin, Star Trek: Strange New Worlds, Souls, Super Pumped: The Battle For Uber, The Best Man: The Final Chapters, The Calling, The Fear Index, The First Lady, The Midwich Cuckoos, The Offer, The Rising, The Undeclared War, Tulsa King, Vampire Academy și Yellowstone.
Printre noile filme și seriale renumite care vor fi disponibile pe SkyShowtime în următoarele luni se numără unele dintre cele mai așteptate lansări: A Town Called Malice, Belfast, Drift – Partners In Crime (S1A), Lioness, Minions: The Rise of Gru, Nope, Rabbit Hole, Ripley, Smile, The Black Phone și The Great Game.
Clienții din Europa Centrală și de Est vor putea viziona, de asemenea, două dintre primele producții SkyShowtime Originals care vor fi difuzate pe platformă în 2023 – producția cehă The Winne și producția poloneză Warszawianka. O altă producție locală populară difuzată pe platformă este serialul maghiar The Informant. În plus, șapte producții locale binecunoscute vor fi disponibile pentru abonați începând din martie, inclusiv: Czech It Out (Cehia), Hackerville (România), One True Singer (România), Ruxx (România), Tuff Money/Bani negri (România), The Sleepers (Cehia), Success (Croația). SkyShowtime va fi noua gazdă exclusivă a acestor producții îndrăgite.
Platforma SkyShowtime va fi disponibilă direct pentru consumatori prin intermediul site-ului: www.skyshowtime.com și prin aplicația SkyShowtime disponibilă pentru Apple iOS, tvOS, dispozitivele Android, Android TV, Google TV și LG TV.
În Albania, Kosovo, Macedonia de Nord și Slovacia, accesul în platforma SkyShowtime va fi disponibil pentru 5,99 euro pe lună. În România, va fi disponibil pentru 3,99 euro pe lună. În Cehia, prețul va fi de 179 CZK pe lună, în Ungaria 1999 HUF pe lună și în Polonia 24,99 PLN pe lună.